If She Dies by Erik Therme
Publishing: February 21, 2021 – Self-Published
Reason I chose to Read this Book: I have read a number of books by this author, and enjoyed them all, so when he approached me with this one, I jumped at the chance.
If She Dies by Erik Therme is a psychological thriller.
First, let me thank the author for providing me with a copy of this book in exchange for an honest review. All opinions are my own.
My Synopsis:   (No major reveals, but if concerned, skip to My Opinions)
Josh and Tess Parker have moved from the small town of Newton to another small town, not far away.  Josh felt it was the right time to get away.  Nine months ago, their five-year-old daughter Lily was killed in a car accident in Newton.  Josh is moving on.  Tess, not so much.  She knows Josh is right, and it's time to get on with her life, but nothing really matters.   She goes along with whatever makes Josh happy.  She doesn't feel like she deserves more.  Josh thinks she should get a job, and see a therapist.  Tess knows that won't help.  Josh is trying so hard, but nothing helps.
Brady Becker, the driver who took Lily's life, was sentenced to two years in prison.  This, Tess finds is unacceptable.  Brady's daughter Eve gets to live, and Tess doesn't think that's fair.  Every day, Tess watches Eve.  She watches her walk back and forth to school.  She watches her at lunch.  She watches her when she gets home from school.  She starts to care for her.
Then the unthinkable happens, and Eve goes missing.
Everything points to Tess, but who would believe her when she says she didn't take Eve?  She's been keeping secrets.  Even Josh is questioning things.  But then, he is keeping secrets too.
My Opinions:   
This book was a little slow.  Don't get me wrong, I liked it.  It kept me interested from start to finish, but it was more drama than it was psychological thriller.  It is very well written, and we can feel the anguish Tess is feeling, her paranoia, her love yet disgust for her husband's actions.  It's a very emotional read.
I didn't really like any of the characters.  I felt sorry for a few of them, but didn't relate or like them.  I found Tess to be a sad, depressed woman from start to finish.  Her husband didn't get it, and his actions and words just pissed me off.   Her future sister-in-law was a bitch, and her brother who I somewhat liked, was also somewhat useless.
For a book that seemed so slow moving, the story was very good, it was very well-written, and it was a relatively fast read.
The author hinted that there may be a follow up to this book, and I would be interested in knowing where it goes, but honestly, I liked the fact that we could draw our own conclusions, and just leave it go.  I would, though, read a sequel.
Read: February, 2021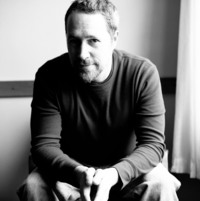 About The Author: Erik Therme is an American author.  He currently resides in Iowa City, Iowa with his wife and daughters. Check out this author's website at https://eriktherme.com/
*** Photo Credit – taken from GoodReads
I have also reviewed this book on GoodReads:  https://www.goodreads.com/review/show/3681977644
Have you read it?  Do you plan to?  Tell me your thoughts…do you agree or disagree with my assessment?  Either way, I'd love to know.