The Institute by Stephen King
Published: September, 2019
Reason I chose to Read this Book: It's Stephen King!
The Institute by Stephen King is part horror, part sci-fi, but mostly just fiction.
My Synopsis:   (No major reveals, but if concerned, skip to My Opinions)
Luke Ellis is taken from his home in the middle of the night.   He wakes up in a room that "almost" looks like his own….but it has no window.  His parents are murdered during the kidnapping, although his kidnappers later assure him that they are alive and well.
Luke is special.  He is exceedingly bright, only 12, but has just been accepted to two universities.  He is also a low-level telekinetic.  He can "sometimes" make things move. That is the reason behind his kidnapping.
He wakes up with a number of other children in "The Institute",  where all the kids have abilities.  They are either possess TK (telekinetics) or TP (telepathy).  Some of them are stronger than others.  They have all been kidnapped, and they are all being tortured.
Luke soon becomes friends with Kalisha, Nick, George, Iris and then Avery who is only 10.  They are all in the "Front Half" of The Institute, and are terrified that they will soon be sent to the "Back Half", where they are sure you die.
If they have any chance of survival, they will have to unite.
My Opinions:   
Reminiscent of "The Shop" from Firestarter, and "The Breakers " from The Dark Tower series, this is classic Stephen King.  He takes kids with exceptional powers and puts them into a dangerous world of suspense and pain.   Then he shows us their true strengths…and he makes us want to be one of them, until of course, we see how much pain is involved.
I loved the characters in this book.  It was so easy to either love or hate them.  If I could have personally taken a bull-dozer to the Institute and killed every adult in it, I would have enjoyed it.  Only once did I want to slap a child, but that is because she snitched.  I don't feel bad for that, but maybe I should.   Luke was probably my favorite, although Avery was a very close second.  My favorite adults were Tim, and then Annie.   There are some really evil people in this book, and "most" got what they deserved, but not all.
I admit to thinking this book was a little long, although again, it's Stephen King, and he packed a lot into it.  He's in his classic "story-telling" mode, and it was gooooood!!!  If you are a fan of his works, this is a must-read.
Read: November, 2021
Favorite Quotes from The Institute:
"This is not an arms race but a mind race, and if we lose, the consequences would be more than dire; they would be unimaginable."
"Luke's answer was the childish denial grownups smile at cynically and only other children can fully understand: It's not fair! Not fair!   No, they agreed. Not fair."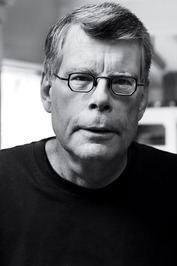 About The Author:  American (Sept 21 1947 – ).  Too much to tell.
*** Photo Taken from GoodReads
Check him out yourself:
Website: https://stephenking.com/
Twitter: @StephenKing
I have also reviewed this book on GoodReads:  https://www.goodreads.com/review/show/2698395852
Have you read it?  Do you plan to?  Tell me your thoughts…do you agree or disagree with my assessment?  Either way, I'd love to know.