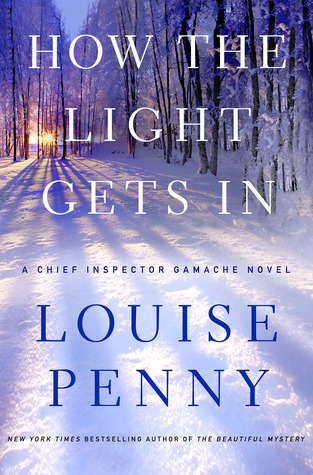 How the Light Gets In by Louise Penny
  Published: 2013
How the Light Gets In by Canadian author Louise Penny is the 9th in the Armand Gamache/Three Pines Mystery Series. 
I cannot say enough about these books.  The writing is wonderful, the mystery is always carefully plotted, and the characters are endearing.  With each new book, the inner me wants to find this little village, these people, and pray they will allow me to become part of their community.
It is just before Christmas, and while his wife is in Paris visiting their son and family, Chief Inspector Armand Gamache is busy.  His beloved Police Department is crumbling. His bosses are trying to take him down, and it looks like it is working.  With the exception of Inspector Isabelle Lacoste, his old staff have all been re-assigned or asked to transfer out, and he has been given the dregs of the force, who openly laugh at him.  His second in command, and dear friend Jean-Guy Beauvoir is now under the control of Chief Inspector Francoeur, who is twisting his mind against Gamache, and feeding him the drugs he craves.  Jean-Guy is being manipulated, and doesn't care.  With all that is against him, Gamache is still trying to stay calm and go about his business, but has not given up his fight to find out what Francoeur is really up to.  He hasn't even given up on Jean-Guy.  But the battle is draining.
Myrna calls Gamache to investigate her missing friend, who had been expected to visit Three Pines the day before.  She never arrived.  It turns out that Constance Pineault was not even her real name.  She has been hiding her identity from everyone, although it looks like she was finally going to reveal some of her secrets.  When she is found in her home in Montreal, the victim of a homicide, it is unbelievable that anyone would want this woman dead.  It will be the end of an era.
Meanwhile, a woman is found under a bridge in Montreal, an apparent suicide.  But perhaps not…. 
As always, Louise Penny leaves you with a craving more.  This time, she also left me in tears.  Any author that can get a reader (well okay, me) that connected, that involved, that emotional, is truly talented.  It is obvious that Penny had a Canadian inspiration for part of this story, and of course, that resonated with me.
On a side note, my husband could probably have done without me walking around singing The Huron Carol, which got stuck in my head somewhere around the second chapter, and is still with me…. "Twas in the moon of wintertime…"
Of course, it's 5 stars
Re-Read: June 2017
Favorite Quotes from How the Light Gets In:
"Four days. And she had two gay sons, a large black mother, a demented poet for a friend and was considering getting a duck.   It was not what she'd expected from this visit."
"Matthew 10:36," he'd said. "And a man's foes shall be they of his own household."
"If people really did morph into their pets, thought Gamache, any moment now he'd sprout huge ears and a playful, slightly vacant, expression."
"Go now to your dwelling place to enter into the days of your togetherness.
And may your days be good and long upon the earth."  (Apache Wedding Prayer)
"Ring the bells that still can ring,
Forget your perfect offering,
There's a crack in everything.
That's how the light gets in." (Anthem by Leonard Cohen)
About the Author:  Louise Penny is the New York Times and Globe and Mail bestselling author of the Chief Inspector Armand Gamache novels. She has been awarded the John Creasey Dagger, Nero, Macavity, and Barry Awards, as well as two each of the Arthur Ellis and Dilys Awards. Additionally, Louise has won five Agatha Awards and four Anthony Awards.