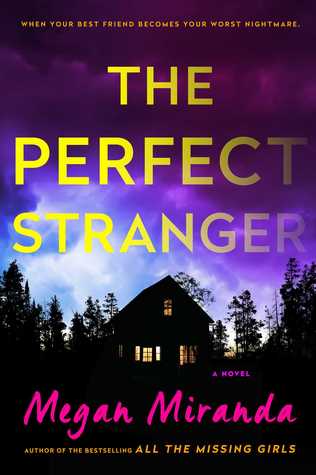 The Perfect Stranger by Megan Miranda
  Published: 2017
The Perfect Stranger by Megan Miranda is a mystery novel, filled with twists.
First, I'd like to thank NetGalley, the publisher, and of course the author, for providing me with a copy of this book in exchange for an honest review.
Leah Steven's journalism career comes to a crashing halt due to her over-zealous pursuit of the truth, so she resigns before she gets sued.  When she runs into her old friend Emmy Grey in a bar, Emmy suggests they get out of town together.  Emmy has just broken up with her boyfriend, and she too could use a change of scenery.  She convinces Leah to move with her to a small town in Pennsylvania, where Leah gets a job teaching high school.  Emmy works some odd jobs, but since they are night shifts, the two end up seeing little of each other.
When a young woman is assaulted and left for dead, Leah realizes that it has been days since she has seen Emmy.  Her relief that the woman is not her friend is short-lived.  The victim who was assaulted bears a striking resemblance to Leah, and rumors start to circulate that she and the person that committed the crime were having an affair, and the victim should have been Leah.  Leah's students are all over this.  The police are also suspicious.  To make matters worse, Emmy really has disappeared, and when Leah files a missing persons report, she realizes how little she really knows about Emmy.  And it looks like that may be the way Emmy had it planned.  Everything is in Leah's name.  There is no record of an Emmy Grey – anywhere, ever.
As both Leah and Detective Kyle Donovan start looking into Emmy's background, it becomes evident that even Kyle questions her existence.  It doesn't help that Leah is trying to keep her own past a secret.  And this is a book about secrets, secrets and lies.
This was a really good mystery. Yes, it was easy to be suspicious of Emmy and her intentions early in the novel,  but it would have been hard to anticipate the direction things went.  I loved the character traits that Megan Miranda gave to Leah, the obsessiveness, determination, cleverness, but I wonder if she could really have been so naive.  As well, the author really cast suspicion on everyone, so that at one point or another, I wasn't sure you could trust Emmy, the detective, the school principal, a couple of the kids she taught, or Leah herself…. She really kept you guessing.
Megan Miranda has my vote.  I'll read whatever she comes up next.  Thoroughly enjoyed this book!
Read: May 2017
Favorite Quotes from The Perfect Stranger:
"All relationships fall into three categories…..Take anyone you know.  Let's say you know they've killed someone. They call you and they confess. Do you either, A, call the police." She held up her thumb. "B, do nothing." Her pointer finger. "Or C, help them bury the body."
"You can't escape the truth. It finds you eventually."
"As long as you end at the truth, all's fair."
About the Author:   Megan Miranda's first novel, All the Missing Girls, reached the New York Times Bestsellers list.  This is her second novel aimed at adults, although she has previously written several books aimed at the YA crowd.  She currently lives in North Carolina with her husband and two children.