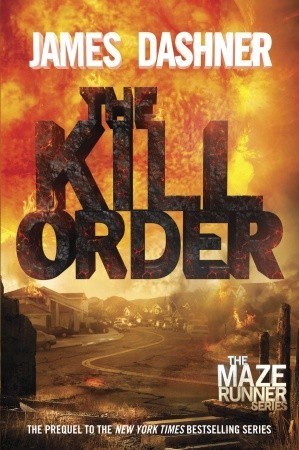 The Kill Order by James Dashner
Published:  2012
The Kill Order by James Dashner is the prequel to the Maze Runner Series, taking place 13 years before those books.
Although this is a prequel to the series,  I think reading it by published date (after the first three books) gives them all a little more clarity.
This is the tale of Mark and Trina, who were riding the subway when the sun flares hit above ground.  In their rush to escape the heat, they meet Alec and Lana who help them get to safety when the tunnels fill with water.  And so their journey begins in the early days of the madness.  They eventually set up camp and others join in.  A year later, they are living in relative peace in their small community.  Until the bergs come and strangers shoot virus-filled darts at them.  Those that do not instantly die, go slowly mad.  The group is on the run again, from the infection and mutating virus, from the bergs, from the crazies, and from the madness within each of them.  Until they find a girl who seems immune.  Then they have one goal.  Get this girl to safety, to people who can study her and find a cure….unless they are the ones who created the virus.  It doesn't matter, this girl may be humanities only hope.  They will get her to safety, or die trying.
I didn't find this book as good as the original trilogy.  Through Mark's flashbacks as well as current experiences, it was meant to tell the story of how the flares and virus started, but I found that lacking in strength. On its own, however, the story and characters were good.
Favorite Quotes from The Kill Order:
"When you live next door to a kid, that kid is your buddy by the rules of the universe. Male, female, alien—doesn't matter."
"Scared. That's good. A fine soldier is always scared. Makes you normal. It's how you respond to it that makes or breaks you."
"You have a knack for trying to get yourself killed!"
Read: February: 2017
About the Author:  James Dashner writes young adult fiction.  Included in his writings are the popular Maze Runner, The 13th Reality, and the Mortality Doctrine Series. He has published others.  He lives and writes in the Rocky Mountains.