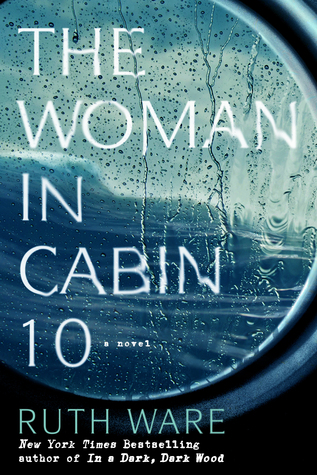 The Woman in Cabin 10 by Ruth Ware
Published: 2016
The Woman in Cabin 10 by Ruth Ware is a psychological thriller, and it is well worth the read.
Lo Blacklock is a travel journalist who has just been given the chance of a lifetime.  Her boss is pregnant and assigned Lo the job of boarding and reviewing Lord Richard Bullmer's new super-luxury "mini" cruise ship.   Lo, having just had her apartment broken into while she was locked in the bedroom, jumps at the chance to get away.  Not even the anti-anxiety medication that she's been taking for years, nor the extra alcohol she has been consuming, have been able to steady her nerves.  A week traveling around the Norwegian fjords on a cruise ship sounds fine!
And it is beautiful, the ship, the cabins, the food, the company.  Then a rather mundane thing happens.  Lo realizes she forgot to pack her mascara, and knocks on the door to Cabin 10.  The woman who answers is dressed in a tattered Pink Floyd t-shirt, and seems annoyed.  She gives Lo her mascara, and shuts the door in her face.   Later that night Lo hears a scream from the woman's cabin.  Then from the balcony,  she hears the splash of a body being thrown overboard.  A smear of blood is on the safety barrier.  Lo calls for help. No one believes her.  No one believes the woman even existed.  There was never anyone assigned to Cabin 10.  The room is bare, the blood smear gone.  And so begins the nightmare cruise.  Lo trying to be heard, and no one is really listening.  Lo is determined to find out what happened, but is not sure who to trust.  She realizes her own watery grave may await.  
I really enjoyed this book. It is only Ruth Ware's second novel, but I would guess we will hear much more from her.  She is being touted as the author of the "twisty-mysteries", and that would be true. There are many twists and turns, and Ware sends you in all directions. It was a fun, fast, and highly entertaining book.
Favorite Quotes from The Woman in Cabin 10:
 "we all have demons inside us, voices that whisper we're no good, that if we don't make this promotion or ace that exam we'll reveal to the world exactly what kind of worthless sacks of skin and sinew we really are."
 "Apparently the majority of ball gowns were designed by five-year-old girls armed with glitter guns, but at least this one didn't look entirely like an explosion in a Barbie factory."
Read: January 2017
About the Author:   RUTH WARE lives in London with her husband and two small children.  She has worked as a waitress, a bookseller, a teacher of English as a foreign language, and a press officer. Both her debut novel, In a Dark, Dark, Wood and this one have reached the NY Times Top Ten.