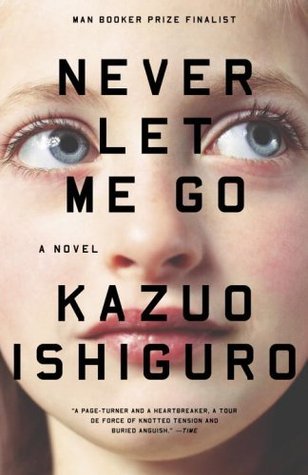 Never Let Me Go by Kazuo Ishiguro
Published: 2005
Never Let Me Go by Kazuo Ishiguro.
I have a few problems which I want to mention up front.  First, there has been controversy over it's classification as dystopian science fiction.  I didn't know anything about the book when I picked it up, and so I didn't read it as sci-fi.  Quickly you realize that something is a little off, and although it is integral to the storyline, in a way, the science fiction part is background.
Second, it will be difficult to review this book without spoilers but I am going to give it a go.
Basically this is the story (told by Kathy H.) of her life in "late 1990's England" and that of her friends Ruth and Tommy.  She is now 31, and has been a "carer" for 11 years.  She reminisces about her childhood, and how they grew up together in Hailsham, a special "boarding school" where they are kept very isolated from the rest of the world.  They had a rather normal curriculum (if very old technology), with emphasis on their artwork, and on healthy choices (smoking is taboo to the extreme).  The best artwork is taken by "Madame", and the children believe it may be going to a "gallery" on the outside.  They are taught not to question – anything.  Although the three are good friends, they have squabbles like any other group of kids growing up together.  Ruth is very self-centered, and tends to be a bit of a bully, with Kathy and Tommy falling into line behind her.  Eventually a normal love triangle forms.  Ruth and Tommy become a couple, but Kathy and Tommy continue to talk, as they question life, choices, the world.  Ruth does everything she can to keep Kathy and Tommy apart.  At the age of 16 they leave the school and live in The Cottage (sounds like an old farmhouse) with older residents, until they are ready to get further training, and to move on to what they are really being groomed for.
The character depths were good. I really wanted to slap them all.  Ruth of course deserved it – often.  Tommy, well I just wanted to wake him up.  Kathy was the peacemaker, but for how little she stood up for herself, she deserved slapping too.  She should have put Ruth in her place more than once.
Overall, the book is very sad.  For this group of individuals, there was never any real hope, no dreams of a wonderful future, no major triumphs.  But they also knew nothing different.  No other way of life.  Overall, they seemed happy with their lot in life, proud that they had attended Hailsham.  Circumstances as they were, their teachers tried to make sure they had everything they needed.  Sort of.
In one way, this book deserved 5 stars — the overall idea is good, somewhat unique.  It is very thought-provoking.  Then again, part of me would rate it only 1 star — it got boring, a little too detailed in descriptions.  There is not really a lot of excitement.  I settled on the middle ground. The 3 stars means I enjoyed it, am glad I read it, but probably won't read again.
Favorite Quotes from Never Let Me Go:
"What made the tape so special for me was this one particular song: track number three, "Never Let Me Go."
"We took away your art because we thought it would reveal your souls. Or to put it more finely, we did it to prove you had souls at all."
"Memories, even your most precious ones, fade surprisingly quickly. But I don't go along with that. The memories I value most, I don't ever see them fading."
"Because somewhere underneath, a part of us stayed like that: fearful of the world around us, and — no matter how much we despised ourselves for it — unable quite to let each other go."
Read: November 2016
About the Author:  Kazuo Ishiguro moved with his family from Japan to England when he was 5 or 6.  He obtained his Bachelor's degree from the University of Kent in 1978 and his Master's from the University of East Anglia's creative writing course in 1980. He became a British citizen in 1982. He now lives in London, where he continues to write novels, short stories and screenplays.  He has also co-written lyrics to songs for jazz singer Stacey Kent.