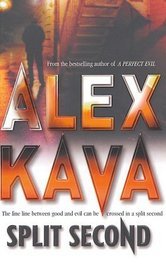 Split Second by Alex Kava
Published: 2001
Split Second is the 2nd in the FBI Profiler Maggie O'Dell series by Alex Kava.
After tracking him for two years, and almost becoming a victim herself, Maggie had finally put serial killer Albert Stucky behind bars.  But now he is out, escaping during a routine transfer, and Maggie knows that her life, and anyone close to her is going to be in danger.  Her boss has her on desk duty, which isn't sitting well.  Either is having to see the Bureau's psychologist.  But there is no doubt Maggie is on edge.  People are noticing.  Stuckys' brutality and mind games have left Maggie doubting herself.
Her marriage has finally disintegrated, and she is moving into a new home with state of the art security, but that may not be enough.  When her next door neighbour goes missing, and then her real estate agent, Maggie knows Stucky is close.  Suddenly it seems like anyone she has contact with may be the next victim.  When Maggie is finally allowed back on the case, she  is under the supervision of Special Agent R. Tully – a partner she isn't used to, and doesn't want. She is used to going it alone, and old habits die hard,  but that almost got her killed last time.  She's going to have to trust others, when she isn't sure she can trust herself.
I really enjoyed this one (even on the re-read many years later).  Kava really shows Maggie as someone who is on the edge, but fighting to come back.  The character of Tessa is also very strong.
Well worth the read.
Re-Read: November 2016
Favorite Quote from Split Second:
"The decisions we make in a split second will always reveal our true nature, our true self. Whether we like it or not. When that split second comes, don't think, don't analyze, don't feel and never second-guess—just react. Trust. Trust in yourself."
About the Author:  In addition to this best-selling series starring FBI Agent Maggie O'Dell, she has another series with Ryder Creed, an ex-vet who trains Search & Rescue Dogs (with Maggie appearing regularly to help out).   As well, Kava has written a few stand-alone novels and short stories.  She is an avid dog lover.