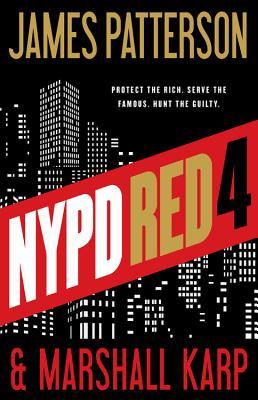 NYPD Red 4 by James Patterson & Marshall Karp
Published: 2016
NYPD Red 4 is the fourth (no kidding) in a crime series by James Patterson and Marshall Karp.  
The dynamic duo of Detectives Zach Jordan and Kylie MacDonald team up to be the crime fighters of the elite in New York.
This time the team is involved in solving a jewelery heist – and the murder of the high-profile actress wearing said jewelery.  The mayor also has them looking into the theft of high-end hospital equipment which is putting her husband's job on the line.  Meanwhile, Zach is trying to handle his new girlfriend moving in, and they are trying to locate Kylie's addict husband.  All this activity keeps the novel moving along at a fast pace.
I am a big fan of Patterson, and although I find the books in the series are improving, this is still not my favorite series.  Mainly because the character of Kylie is an antagonistic B, who won't leave her ex (Zach) alone long enough for him to move on, even though Kylie is now "married".  The whole "romance" angle makes me sick.  However, as always, the plot is good, and it is a fast-paced action-packed novel, and an easy read.
Read: March 2016