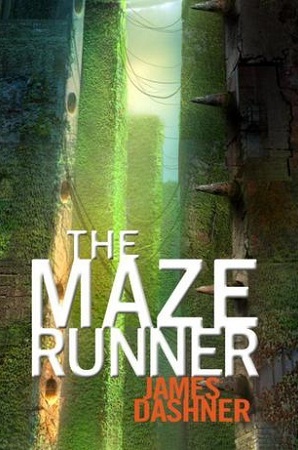 The Maze Runner by James Dashner
Published:  2009
The Maze Runner by James Dashner is the first in the series.
Thomas wakes up in what sounds like an elevator car, with no memories.  When the doors open, a group of boys pull him out.  No one remembers their life before being pulled out of that shaft.  Some of them have been there for 2 years.  The group is provided weekly supplies, and once a month, another boy shows up.  They have learned to work together.  Although not perfect, there are sleeping quarters, an eating area, a farm-like area with cows, pigs, and a garden.  Everyone works to make sure everything runs smoothly, and it does.  But there is one thing that is off.  They are surrounded by walls.  Every night, the walls close them in.  Outside the walls is a maze, and every day a group of boys investigate that maze trying to find a way out.  It isn't as easy as it sounds.  Every night in the maze, the walls move.  You don't want to get caught in the maze. That's when the Grievers come out, and they can kill.  The boys just want to solve the maze.  They want out.  They want to go home.  Then something even stranger happens.  A day after Thomas arrives, they get another delivery.  It's a girl, and she doesn't bring good news.
Dashner wrote a highly entertaining novel, and I am looking forward to the rest in the series.  Although I am not young adult, the premise of the book is very good, and can be enjoyed by all.  Thankfully most of the boys are not like those in Lord of the Flies.
Favorite Quotes from The Maze Runner:
"Thomas thought Chuck's personality had gone from mildly irritating to intolerable."
"If you ain't scared," Alby said, "you ain't human. Act any different and I'd throw you off the Cliff because it'd mean you're a psycho."
Re-Read: October 2016
About the Author:  In addition to the Maze Runner Series, Dashner has written the Mortality Series, and a new 13th Reality Series.   Born in Georgia, he now lives in the Rocky Mountains.  He has a Masters in Accounting.