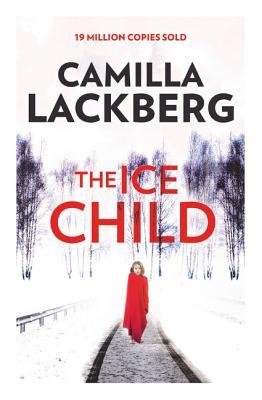 The Ice Child by Camilla Läckberg
Published: 2016
The Ice Child by Camilla Läckberg is the 9th in the Patrik Hedström and Erica Falck series.  It's amazing how many crimes take place in the vicinity of this small Swedish town of Fjällbacka.
A number of girls have gone missing in neighboring towns in the last few years, and one of them has just been found.  Unfortunately, Victoria wandered out of the bush near the riding stable from which she went missing, and was hit by a car.  Her horrifying injuries had occurred long before this accident.  Patrik and his team are working with police from other towns to solve these abductions, but are having little success.
Meanwhile, Erica has been working on a cold case.  She has been visiting Laila in prison, where she has been incarcerated for many years, after killing her husband.  So far she hasn't said much, but Erica won't give up, because killing her husband was bad enough, but how could any mother keep her daughter as a virtual prisoner in her own home?  What about their son?  Something isn't right.
As always, Läckberg has taken two crimes and slowly linked them.  Although Erica is always getting in the way of Patrik's investigations, she usually has some valid input, and although Patrik isn't happy, his team is starting to trust Erica.  It makes for an interesting dynamic. I must say that it is a good thing that Patrik's mom and Erica's sister live close, because they are constantly in need of a babysitter.
It was a good book, and as usual, twists and turns are par for the course.
Favorite Quotes From The Ice Child:
"The sensation when her nasal passages cleared was almost like an orgasm."
"How could the maternal instinct become so weakened that a woman would let anyone harm her child, either psychologically or physically?"
Read: September 2016