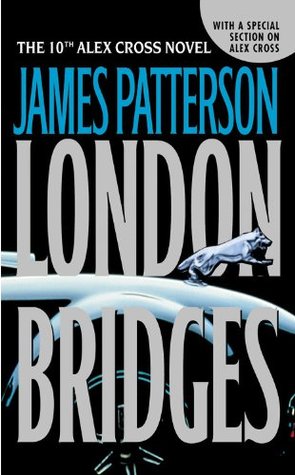 London Bridges by James Patterson
Published: 2004
London Bridges is the 10th in the Alex Cross Series by James Patterson.
Alex is working with the FBI full-time now. He is called away from a date with Jamilla, and taken to the remains of a small town in the Southwest.  It had been  evacuated by "military personnel", and then the town was blown up.   When a hiker in the area shows him pictures, to Alex's dismay he recognizes his old enemy Geoffrey Shafer, the "Weasel", who has cost Alex dearly.   As things develop, he realizes Shafer is not the boss, but just a piece of the puzzle.  The Wolf is back, and he is holding the world hostage.  Unless his demands are met, four cities will be destroyed…New York, Washington, London, and Frankfurt.  Alex is determined that this time neither the Weasel, nor the Wolf will get away.  But the Wolf is ruthless, and seems to have all the cards.
This was not my favorite Alex Cross book.   Although the characters are still great, there is just too much politics in it for my liking, too much bopping from one country to another, and not enough mystery.   And, although I am not a romance reader,  that angle is not pleasant either.
Favorite Quote from London Bridges:
"Then I called Nana.  I told her the truth about how it had felt sitting on the pavement with a bomb attached to my wrist.  She was the one I always told about my worst days, and this was probably the worst of them all."
Re-Read September 2016