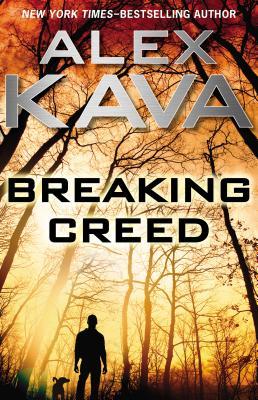 Breaking Creed by Alex Kava
Published: 2015
Breaking Creed by Alex Kava is the 1st in the Ryder Creed Series.
Another great book by Alex Kava. I've been reading her books since she started writing, and have always enjoyed the FBI Agent Maggie O'Dell Series. I confess to re-reading the books once or twice or…
Now that she's added a new character and series – Ryder Creed – a specialist in training dogs to find drugs/bombs/remains etc, I am along for the ride. Although, since both Maggie and Creed are in this book, it doesn't actually feel like a new series.
Ryder was actually in one of the Maggie O'Dell books, but in this one we are really introduced to him, his dogs, his partner Hannah, and his work. When he and Grace, a multi-tasking jack russell terrier,  find children being trafficked on a drug-smuggling boat, and later rescue a 14 year old girl who is being used as a drug mule, he knows he may be bringing the cartel to their doorsteps. When Hannah brings home a war vet, Ryder doesn't know what problems he may encounter. But with Maggie back in the picture, he may have more than he can handle.
This book, as all of Kava's books, is a fast read. It keeps you moving from crisis to crisis, and it's hard to put down…although if you are a little squeamish when it comes to insects/bugs/snakes, consider yourself warned…there are plenty..
Enjoying this series!
Favorite Quotes from Breaking Creed:
"Red touches black, venom lack. Red touches yellow, kill a fellow."
Re-Read: August 2016
About the Author:  Alex Kava is the best-selling author of the Maggie O'Dell FBI Series.  This is the first in a new series about a K-9 Search & Rescue team.  In addition to winning major awards and having her books published in over 30 countries, Alex  Kava is a dog lover with a pack a Westie's to call her own.