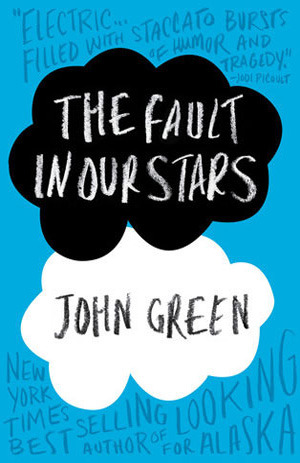 The Fault in our Stars by John Green
Published: 2012
The Fault in our Stars by John Green is about 16-year old Hazel Grace Lancaster who has thyroid cancer, and which has now spread to her lungs.
Hazel's Mom makes her attend a support group at a local church, where she meets Augustus Waters, who is missing a leg from cancer.  They bond quickly, and agree to read each other's favorite book.  Augustus is frustrated by the ending to the book Hazel gave him, which is about a girl with cancer, and which closely mimics Hazel's experience.  Hazel tells him the author has disappeared from the public eye.  Augustus tracks him down.
This is a bittersweet love story between two teens.  From the outset you know it is not going to end well, but the ending still strikes hard.  I cried.
Apparently John Green worked as a chaplain in a children's hospital, which is where he took some of his inspiration.  His writing style is good,  his characters are maybe a little more mature than 16 in some ways, but perhaps if you'd been through what they are going through, you'd grow up a little too soon as well.  I am not into romance novels, nor am I a Young Adult, so whether someone in those categories would enjoy the book I cannot say.  But from one who has lived a "little" longer, it was a great book!
Favorite Quotes from The Fault in Our Stars:
"Maybe 'okay' will be our 'always"
"You don't get to choose if you get hurt in this world…but you do have some say in who hurts you. I like my choices."
"Never was Shakespeare more wrong than when he had Cassius note, "The fault, dear Brutus, is not in our stars / But in ourselves." Easy enough to say when you're a Roman nobleman (or Shakespeare!), but there is no shortage of fault to be found amid our stars."
Read: 2014