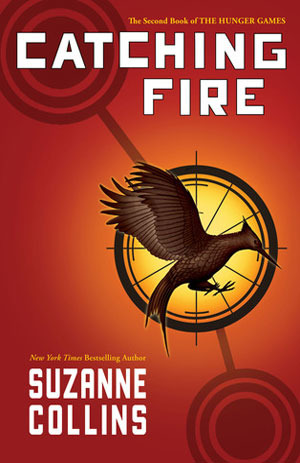 Catching Fire by Suzanne Collins
Published: 2009
Catching Fire by Suzanne Collins is the 2nd in the Hunger Games Trilogy.
After winning the Hunger Games in the first book, Katniss and Peeta must do a "Victory Tour", which has them visiting each of the 11 districts.  Their accomplishment has not only brought them respect from the other districts, it has also increased the up-risings of the people.  President Snow is not impressed.  To show his displeasure, there will be a special Quarter Quell event that will see all the living victors from previous games compete again.  She convinces Haymitch (who will also compete), that he must do everything to make sure Peeta wins.  Unknown to Katniss,  Peeta  made his own deal with Haymitch.
On the romance side,  Katniss is still unsure of her feelings for both Gale and Peeta.  Peeta has never had a doubt.
This book has some really great moments, and some really great characters.  Katniss, while in the woods outside her home, encounters two runaways from District 8 who are under the impression that not all of District 13 was destroyed.  When Katniss and Peeta visit District 11, the people whistle the tune and use the same sign that she had shown to the television when Rue had died.  Finnick was 14 when he won the games, and he will be participating along with 80 year old Mags, his sponsor.  I loved Beetee and Wiress, an older couple who are both very bright, although maybe not all there.  Even Johanna, although very brisk, has her moments.
The series is well worth the time to read.
Favorite Quotes from Catching Fire:
"Girl talk. That thing I've always been so bad at."
"So that's who Finnick loves, I think. Not his string of fancy lovers in the Capitol. But a poor, mad girl back home. "
"You know, you could live a thousand lifetimes and not deserve him."
Re-Read: 2015