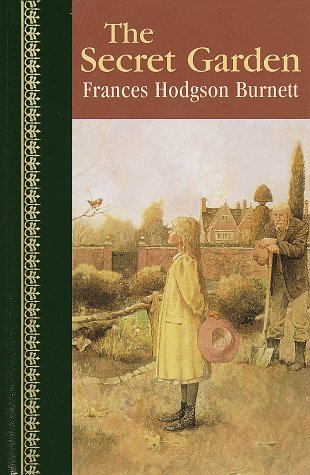 The Secret Garden by Frances Hodgson Burnett
Originally Published: 1911
The Secret Garden by Frances Hodgson Burnett is a classic.  
This is one of the first books I read again and again as a child.  I think my mom was sick of me bringing it home from the library so often.   I read it again recently.  It still holds the charm!
It is the story of Mary Lennox, a rather privileged and spoiled child living in India.  When the cholera outbreak claims the lives of her parents, she is sent to England to live with an uncle she has never met.  She hates it.  The house is enormous, it is in the middle of nowhere, with moors all around, and she is told to keep to her rooms and amuse herself.  
A maid takes pity and tells Mary the story of how the mistress of the house built a walled garden and grew amazing roses, but a tree branch from the garden fell and killed her so the master has locked up the garden and it is in total disrepair. A robin leads her to the key, and Mary and Dickon (the maids brother) start a little garden.   
One night, she hears someone crying, and discovers another boy living in the house.  Colin has some type of spine issue and does not leave the house.  That changes when he meets Mary.
This is a really feel-good book…and it's a classic…it is meant for ALL ages! 
Favorite Quote from The Secret Garden:  "And the secret garden bloomed and bloomed and every morning revealed new miracles."
Re-Read: 2014