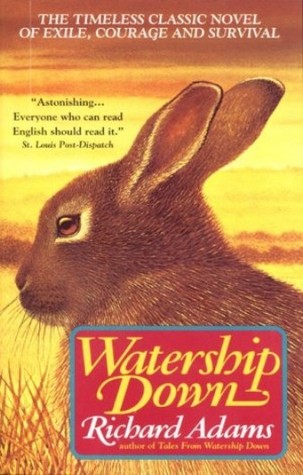 Watership Down by Richard Adams
Originally Published: 1972
Watership down by Richard Adams is the classic story about bunnies.  Okay rabbits.
Apparently Adams would tell this story to his children during car rides, and eventually they convinced him to write it down.  Watership Down is an area near his home in England.  In the story, that is where the rabbits are travelling to.  
That being said,  I don't actually consider this just a children's book.  This is one of those "everyone should read" books.  
It is the story of a small group of rabbits leaving their home to find a new warren, because they are sure that men are coming and will destroy it.  They could not convince everyone to come with them though, and we later find out that the warren was destroyed.   They find another group of rabbits who invite them to stay, but discover that they have an ulterior motive — the farmer lets them live there, but occasionally harvests a few for his own.  They move on.  Eventually they find Watership Down, a wonderful place for their home.  However they realize there are very few females among them and know they will not last long.  So the hunt for does is on.
At times you forget they are rabbits.  Their experiences resonate through humanity. Their faults, their struggles, their bravery, life and death.  This is simply a wonderful tale!
Favorite Quotes from Watership Down: 
"Animals don't behave like men,' he said. 'If they have to fight, they fight; and if they have to kill they kill. But they don't sit down and set their wits to work to devise ways of spoiling other creatures' lives and hurting them. They have dignity and animality."
"My heart has joined the Thousand, for my friend stopped running today."
Re-Read: February 2014