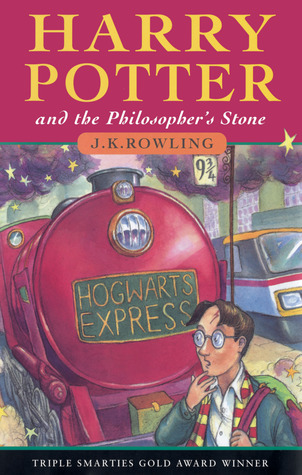 Harry Potter and the Philosopher's Stone by J.K. Rowling
Originally Published: 1997
Harry Potter and the Philosopher's Stone by J.K. Rowling is the 1st in the Series.
The Harry Potter Series is the first to set off a phenomenon unseen in decades. Presumably a children's series, it has been embraced by both children and adults world wide. Not only do I re-read the series almost yearly, my husband and I actually watch the movies yearly.
Story background. Harry Potter has been living with his Aunt Petunia, Uncle Vernon and their son Duddley since he was a baby. He was treated more as a slave than part of the family. When he was 11, a strange and wonderful thing happened. He discovered he was a wizard, and was brought to Hogwarts School of Witchcraft and Wizardry to learn his craft. He also discovered he was "The Boy Who Lived". Through some unknown force, as a baby, he had defeated the world's worst Wizard, Lord Voldemort ("He Who Must Not Be Named"), while his parents had been killed. This explains the mark on his forehead. Harry is a hero to the wizarding world, but he is also 11. He meets two good friends, Hermione Grainger and Ron Weasley. Other favorites include Hagrid (the magical creature caretaker at the school), Ms McGonagall (his "homeroom" teacher), and Professor Dumbledore (the head of the school). On the other side is fellow student Draco Malfoy and Professor Severus Snape, both of whom rub the wrong way.
The first book, the first year at Hogwarts, shows Harry, Hermione and Ron trying to figure out why there is a 3-headed dog (Fluffy) guarding a trap door in one of the "off-limits" corridors of the huge school. While extra-curricular activities like the game of Quidditch (played on broomsticks), and regular school classes like Transfiguration and Potions take up a lot of time, Harry has never been so free, or so happy. The idea that he has to go back to the Dursley's at the end of the school year (even for a few months), is only made better knowing that he can return to Hogwarts.
This series should be read by everyone!
Favorite Quotes from the Philosopher's Stone:
"It does not do to dwell on dreams and forget to live."
"Oh, HONESTLY, don't you two read?"
"It takes a great deal of bravery to stand up to our enemies, but just as much to stand up to our friends."
Re -Read: January 2015