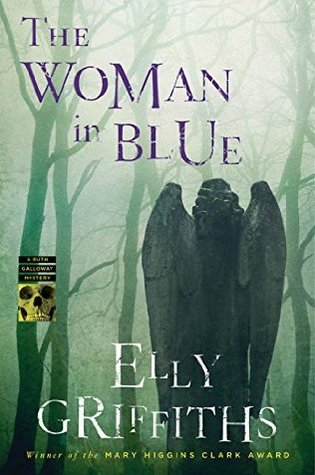 The Woman in Blue by Elly Griffiths
Published: 2016
The Woman in Blue by Elly Griffiths is the 8th in the Ruth Galloway Mystery Series.
I loved this one.
Ruth's druid friend Cathbad, while cat-sitting in a small town outside of Norfolk sees a woman dressed in white with a blue cloak standing in a cemetery. He is not sure she was real, or a vision of the Virgin Mary, which apparently is quite common in the area. The next day she is found in a dead.
Meanwhile, Hilary, an old friend of Ruth's comes to town to attend a training seminar to become a bishop. She insists that Ruth help her determine whether the nasty letters she has been receiving are cause for concern. Ruth passes them on to Nelson, as they appear to be more than just hate mail. When another female priest is murdered, a suspect is arrested.
Everything comes to a head on Good Friday, the day of the annual Passion Play.
Although there is more than the usual religious tones to this one, and Ruth's atheism can get on my nerves, I still really enjoyed it, and can't wait for the next !
Read: July 2016