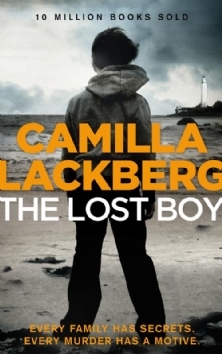 The Lost Boy by Camilla Lackberg
Originally Published: 2009
The Lost Boy, by Camila Lackberg is the 7th mystery novel in a series which follows Detective Patrick Nordstrom and his team as they solve crime in a small town in Sweden.
Lackberg tackles some heavy subjects in this one, including the drug trade and women's shelters, not to mention the death of a child. She handled all with grace. 
As usual , Lackberg combines history with current day events, and they all weave together beautifully. So we hear the story of a young woman marrying the man of her dreams, who takes her to live a solitary life in a lighthouse. She is kept there, is abused there, has a child there.
Then present day, a young man who recently returned home to Fjallbacka, is found dead in his apartment. Assumptions are made that his death is because of past work at the Women's Shelter in a nearby town. Others think it has something to do with his present work on the re-construction of an old building into a multi-million dollar spa/resort.
Lackberg always has a few story lines going at the same time, but remarkably everything stays together.
One of my favorites. Sadness, joy, intrigue.
Read: January 2016