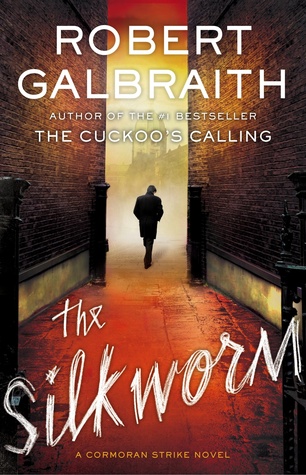 The Silkworm by Robert Galbraith
Published: 2014
The Silkworm by Robert Galbraith is the second in the PI Cormoran Strike series.
Yes, this is actually JK Rowlings writing under a pseudonym. I don't blame her a bit.
Anyway, business has been booming for Cormoran Strike since he solved the Lula Landry case, but most of the jobs have been small. When author Owen Quine goes missing and his wife calls Strike to find him, it sounds familiar, and a bit boring. However, Strike soon becomes a little more concerned when he discovers that Quine's latest manuscript entitled "Bombyx Mori"  was going to upset a number of people. When Quine is found dead in a rather bizarre setting, there are a lot of available suspects.
Meanwhile, Robin is not particularly happy with Cormoran, as she feels she deserves more challenging work. Her fiance isn't happy with Cormoran either, nor is he particularly pleased with Robin.
The plot in this one is a little strange, but good. I am really beginning to like the combination of Cormoran and Robin.
Continues to be a good series.
Favorite Quotes from The Silkworm:
"We need readers," muttered Daniel Chard. "More readers. Fewer writers."
Favorite Quotes from The Silkworm: 
"There are always loose ends in real life."
And Bombyx mori,' she finished up, 'is the Latin name for a silkworm.'
'They boil them,' said Robin. 'Boil them alive, so that they don't damage their cocoons by bursting out of them. It's the cocoons that are made of silk. Not very nice, really, is it? 
Read: August 2014