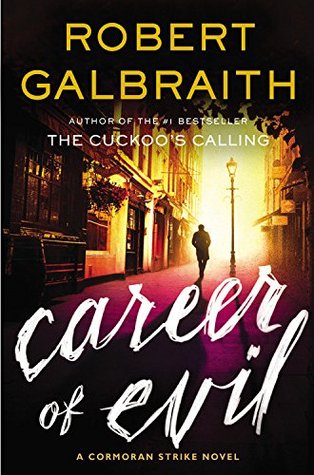 Career of Evil by Robert Galbraith
Published: 2015
Career of Evil is the 3rd Cormoran Strike novel by Robert Galbraith (pseudonym for JK Rowling).
When Robin is sent a severed leg, Strike and Robin begin a man hunt for a serial killer. While she is supposed to be doing her wedding planning, surveillance and investigative work are taking much more of her time, and she's loving every minute of it. However, Strike is trying to keep her in the background, as he has narrowed the search down to a few "old friends", none of which he wants Robin anywhere near.  One of the suspects is Jeff Whittaker, once married to Strikes mother, and whom Strike believed murdered her.  The police are concentrating on a different suspect, and Cormoran insists they have to eliminate the others as well, and that will require help from Robin.
The dynamics between Cormoran and Robin are really good.  They are learning to rely on each other, trust each other, and in a moment of weakness,  Robin shares some history with him.  
A little gory, but with lots of twists and turns, probably the best of this series so far!
Favorite Quotes from Career of Evil:
"I choose to steal what you choose to show And you know I will not apologize— You're mine for the taking. I'm making a career of evil… Blue Öyster Cult, "Career of Evil" Lyrics by Patti Smith"
"Men looked so tragic when they cried."
Read: November 2015