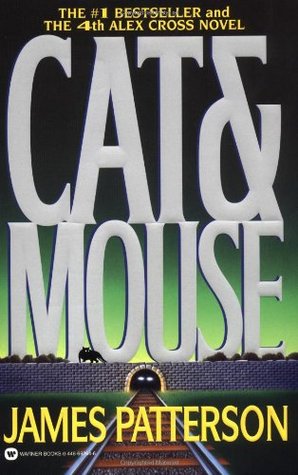 Cat & Mouse by James Patterson
Published: 1997
Cat and Mouse by James Patterson is the fourth in the Alex Cross Detective Series.
In this book, Gary Soneji has broken out of prison and plans to ensure that the world knows he is out there. Sniping at Union Station seems a good place to start. He makes it his personal mission to end the life of Alex Cross, or to die trying, which he doesn't actually see as a problem. Meanwhile, the FBI is trying to convince Alex to help find another mass murderer Mr. Smith, who has a kill rate that is even worse than that of Soneji.
Lots of excitement, especially when Alex and his family are almost murdered in their beds. While Alex is recovering, a new agent Thomas Pierce who has been working the Mr. Smith case, is brought in to help.
On the matter of Alex's love life, he is seeing more of Christine (introduced in the last book as the school principal whose husband is murdered in their home).  It looks like she may be a keeper (although  personally it is too soon for her to be in a relationship).
There are a few twists and turns, and overall the book is good. I am re-reading this series after many years, and find I am not enjoying them as much. The plots are still good, but there is only so much love for his kids, and black vs white that you can handle.
Favorite Quote from Cat & Mouse: "Assume nothing, question everything."
Re-Read: June 2016