The Suspect by Fiona Barton
 Publishing: January 22, 2019
Previous Book in the Series: #2 – The Child
The Suspect by Fiona Barton is the third in a series starring Reporter Kate Waters.
First, let me thank Edelweiss, the publisher Berkley/Penguin Random House, and of course the author, for providing me with a copy of this book in exchange for an honest review. All opinions are my own.
My Synopsis:
Kate Waters is a tenacious reporter. But she soon ends up on the wrong side of the pen.
Two girls go missing on a trip to Thailand, and their parents raise the alarm. Kate gives them the publicity they need, and when the bodies of Alex and Rosie are found in a burned hostel, she travels with the parents to bring back their daughters. So do a lot of other reporters. So everyone is there when it turns out that Kate's son Jake was also at that hostel, and is now missing. First called a hero, Jake Waters becomes a suspect when the reporters start investigating his past.
Kate and her family are totally unprepared. They had no idea where their son was. He had taken a year off from university to travel, and communication was sparse. Unfortunately, the little communication they had, turned out to be lies on Jake's part. So the information coming at them now is unexpected, and heartbreaking. But it doesn't matter, because Kate is going to stick by her son.
Meanwhile the parents of the girls are also finding out some disturbing news about their daughters. There was a lot going on that they didn't know.
Although his wife can no longer battle the cancer raging through her and has little time left, she insists that her husband, Detective Inspector Bob Sparkes, continue his investigation into the girls deaths. The Thailand police did a bad job, and this must be corrected. His only problem will be dealing with his friend, Kate Waters.
My Opinions:
First, although I have read the previous two books, I am just now realizing that this is a series. Yes, they all have Kate Waters, but they don't have a continuing story-line, so can easily be read as stand-alone novels thus far.
Secondly, the books are getting better as Barton fine-tunes her writing skills. This is the best so far.
The book tackled the subject of missing children, and shows how parents don't really know their children. It's a little scary. Most kids lie, but some more than others. Even when confronted with the truth, different parents react differently.
The characters felt real, their emotions raw, and the dialog felt right. The plot was good, with enough twists to keep you turning the pages. I like how the story is told from different perspectives.
Looking forward to more.
Read: January 2019
Favorite Quote from the The Suspect:
"My dad used to say we spoiled him. We argued about it. Horrible word, "spoil." Sounds so childish, but it means harm or destroy. I lie there thinking, Did we? Did we spoil our son?"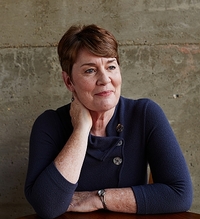 About the Author:  Fiona Barton has worked as a  journalist – senior writer at the Daily Mail, news editor at the Daily Telegraph, and chief reporter at The Mail on Sunday, where she won Reporter of the Year at the National Press Awards.  She gave up her job to volunteer in Sri Lanka and since 2008, has trained and worked with exiled and threatened journalists all over the world.  Now she is writing best-selling novels.  She lives in south-west France with her husband. 
I have also reviewed this book on GoodReads: https://www.goodreads.com/review/show/2646645245