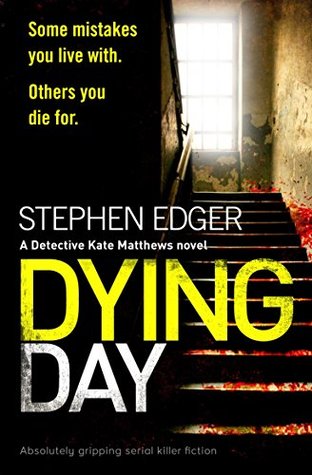 Dying Day by Stephen Edger
  Published: November 2017 by Bookouture
Dying Day by Stephen Edger is the 2nd in the Detective Kate Matthews series.
First, let me thank NetGalley, the publisher Bookouture, and of course the author, for providing me with a copy of this book in exchange for an honest review.
My Synopsis:
Kate is supposed to stay away from the office, as she was just involved in a high-speed chase that resulted in both her and the suspect vehicle to be in collisions. As usual, Kate disobeyed orders to cease the pursuit, so the Office of Professional Standards will be involved.
When a body is found in the trunk of a vehicle, Kate wants to be in on the action. Her boss says no, but Kate goes around him and gets involved anyway.
Meanwhile, it is the anniversary of Amy Spencer's death. She was a young officer who held Kate in high regard, and volunteered to go undercover in a case to prove herself, and to help Kate keep her job. There had been three girls murdered, and Kate seemed to be the only one who thought they were all killed by the same person. Amy died. Kate was removed from the case. No one was ever arrested. Now, a year later, a team is looking into the murders again. Kate is being purposely excluded from the investigation. That, of course, won't stop her.
My Views:
Well, I didn't really like Kate Matthews in the first book, and my opinion still has not changed. Her ego knows no bounds. Apparently she is the only detective that can solve any case, and she repeatedly tells everyone that they need her. Confidence is one thing, this is just obnoxious behaviour. If the plots and writing weren't so good, I would give up on this series. Disliking the protagonist makes it very hard to read the book. If it was just an ego thing, I might be able to handle it, but her disrespect for authority, subordinates, boyfriend, and her daughter really annoy me. Her priority may be her work, but apparently it is her only priority.
That being said, the writing is really good, the pace right, and the plot amazing. This story alternated between the present day investigation, and the events that occurred a year ago, which were told in the voice of Amy. That was really well done. I loved Amy. Other than Kate, I actually like the supporting characters in these books.
Okay, looks like I am going to have to get used to Kate, because Edger writes really well, and without Kate, this would have been a 5 star book.
Read: February 2018
Favorite Quotes from Dying Day:
"But at what cost, Matthews? Your car is a write-off and you… what if he'd driven into someone? A family? Would that have been enough?'
'Enough?'
'Enough for you to stop this one-woman campaign to put away every criminal who crosses your path?"
"Good policing is what will finally catch him, not passion."
About the Author:  Stephen Edger is a British crime and thriller author. He works in the financial industry, and has a law degree.  In addition to this, he has a wife, 2 children, and 2 Westies.  Not sure where he found time to write over a dozen novels.