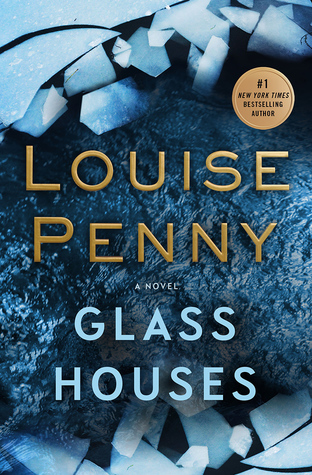 Glass Houses by Louise Penny
 Published:  August 2017
Glass Houses by Louise Penny is the 13th in the Armand Gamache (Three Pines) Detective Series.
My Synopsis:
Armand is now the Chief Superintendent of the Surete du Quebec.  He has lofty goals to refresh the police department, which was once so full of corruption that it created an  atmosphere where the criminals, particularly the drug cartels have taken over.  Armand is building a new team, a new police force.  He has a plan.  But it will take time.  It will take sacrifices.  It may take his job, and the life of one of his team. Lives will be lost.  But there is no choice.  This time the war on drugs must be won.  He will do what he must.
Meanwhile, in his little town of Three Pines, a mysterious figure appears at their Halloween party, dressed from head to toe in black.  He speaks to no one, answers no questions.  The next morning he is still there, in the middle of the town common, standing erect, not moving, just watching.   Everyone is spooked, including Armand.  This figure is called a cobrador…a debt collector, who by his mere presence is supposed to shame the one with the guilty conscience into paying up.  This one ends up dead.
My Opinions: 
This is a book about many things, but one of them is integrity/ethics/conscience.  It is about how far a person will go to find justice.  It showed how far Armand was willing to go.   Penny tells this tale from two time-lines which added suspense, as information was doled out slowly.  Armand is on the witness stand in the murder case of the cobrador, and going back in time to show the correlation between the murder and the decisive moment when he discovered how he could possibly stop the war on drugs.  As always, the characters of Three Pines play an important role in the murder case.  Penny wove the many threads together seamlessly, and ended up with a masterpiece.
I put off reading this one for a few months so that it wouldn't be so long til her next….which now I understand is November 2018.  That's a long way away!  Needless to say, I love this series by this wonderful Canadian author!
Read: March 2018
Favorite Quotes from Glass Houses:
"Clearly for Ruth the concept of keeping the mouth shut was completely foreign."
"There was a growing resemblance between Ruth and Rosa. Both had scrawny necks. Their heads white. Their eyes beady. They waddled when they walked. They shared a vocabulary.
If it wasn't for Ruth's cane they'd be almost indistinguishable."
"They all had them. Secrets. But some stank more than others."
About the Author:  (July 1, 1958 –  ) Louise Penny is a Canadian author.  Once a journalist with CBC, she now devotes most of her time to  writing.   She has been awarded the John Creasey Dagger, Nero, Macavity, and Barry Awards, as well as two each of the Arthur Ellis and Dilys Awards. Additionally, Louise has won five Agatha Awards and four Anthony Awards.